For many, the sustainable fashion movement is about localized production, independent designers, secondhand clothes, organic cotton, and clothing from recycled materials.
But what about print-on-demand? Does POD belong in the conversation about fashion and sustainability? Absolutely. Print-on-demand is a distinct chapter the slow fashion movement because it emphasizes zero waste and one-at-a-time production.In this article, we'll cover in-depth what we mean when we say slow fashion, why print-on-demand and sustainability go hand in hand, and what to look for in choosing sustainable fashion companies.
Jump To...
What is Sustainable Fashion?
Sustainable fashion, and especially slow fashion, is a concept that came about out of growing concern over excess consumption and waste in the fashion industry.
Fast fashion emphasizes the rapid mass production and distribution of the latest fashion at the cheapest price point. Slow fashion, on the other hand, emphasizes the production of higher-quality clothing sourced from sustainable materials and labor, often at a higher price point.
In other words, fast fashion is made to trash. Slow fashion is made to last.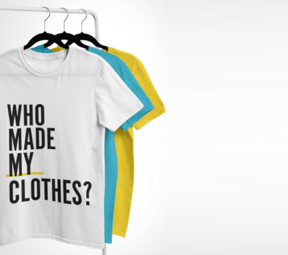 But sustainability in fashion is more than just the products themselves. It's also about a total transformation of the production process. Green Strategy gives us a more in-depth understanding of sustainable fashion:
More sustainable fashion can be defined as clothing, shoes and accessories that are manufactured, marketed and used in the most sustainable manner possible, taking into account both environmental and socio-economic aspects. In practice, this implies continued work to improve all stages of the product's life cycle, from design, raw material production, manufacturing, transport [etc.]... all stakeholders should work to improve present working conditions for workers on the field, in the factories, transportation chain, and stores, by aligning with good ethics, best practice and international codes of conduct.
As Green Strategy explains, sustainable fashion is about minimizing environmental impact in the production process from start to finish.
What Does Print-On-Demand Have to Do with Sustainability?
Actually, a lot. Print-on-demand (POD) means made one-at-a-time. Unlike mass production, where large quantities of the same product are produced, POD products are made only after a customer orders it. Because of this, POD cuts down massively on waste.
Plus, because print-on-demand companies make products to ship out directly to customers, there's no inventory lying around in warehouses. No inventory = no waste.
---
---
Choosing the Right Print-On-Demand Company
If you want to grow your business with a POD company and sustainability is your highest priority, there are three points you should consider when choosing the right company:
The products
The people
The artists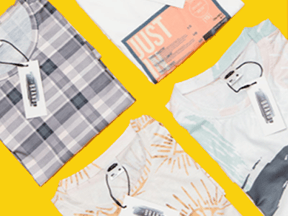 The Products
The print-on-demand industry defeats the purpose of sustainability if its products are sourced unethically. The most ethical brands are the ones whose products:
The People
Behind every great dream are great employees who make the dream a reality. Ethical fashion brands recognize the need to invest in fair, ethical working conditions.
Make sure your POD company has a trustworthy social compliance process. For example, Kin Custom works closely with Sedex Members Ethical Trade Audit (SMETA) to ensure that our employees lead healthy, safe, and dignified lives. Responsible for maintaining ethical global supply chain practices, SMETA helps us confirm that:
Our work environments are safe and sanitary.
Our business practices are ethical.
Our employees understand their rights in their labor relationships.
The Artists
Your POD company should be enthusiastic about you, your art, and your business. Here are a few ways your POD company can support independent artists, designers, and shop owners:
Get Started with Print-On-Demand
If you're convinced that POD is the right route for your sustainable clothing brand or art, you might consider Kin Custom as your print and dropship provider.
Our reliable network of sustainable suppliers and in-house seamstresses ensure quality, handcrafted, made-to-order products you can sell your designs on. Plus, our preferred suppliers provide ECO PASSPORT by OEKO-TEX

certified ink and STANDARD 100 by OEKO-TEX

certified material, so you can be confident that the products you're selling or buying for yourself are ethically sourced.
If you're ready to grow a lucrative apparel business, or if you'd like to design something for yourself, click on the link below to get started in our Creator Studio.