When you think of bulk ordering, box stores like Costco or Sam's Club may come to mind. However, you'd be surprised to know that many companies, including Kin Custom, have sensational bulk discounts.
Read on to find out what bulk discount ordering is, who it benefits, and what kind of discount we can offer for your growing apparel business.
What Is Bulk Ordering?
Bulk ordering, or also known as bulk purchasing, is the process of ordering large quantities of an item at a discounted rate.
Bulk ordering is essential for any business owner, as it allows them to satisfy their customers' demands while maximizing on their profit. Plus, ordering in bulk ensures the business owner is acquiring more use per dollar spent on their products.
While some companies require you to order upwards of a dozen of the same product to receive a discount, Kin Custom's bulk ordering policy allows shop owners to purchase a minimum quantity of three of the same product to earn a discount, even if you need several different sizes of the product.

Bulk Ordering With Kin Custom
As mentioned before, Kin Custom's bulk order policy means you only have to order three of the same product to get a great discount. Our products are discounted up to 45% off if the same design is applied to 3 or more of the same product, no matter how many different sizes you need.
Bulk Ordering Saves Time & Brings Consistency To Your Business
There are many benefits of bulk ordering, whether you're a business owner or not, but a big perk is consistency, and therefore, time-saving measures.
Time is of the essence as a business owner, so when you're handed the opportunity to take more time back for yourself, embrace it. Bulk ordering through a dropship company like Kin Custom means you don't have to worry about the logistics of getting your product to your customer.
From the moment you place your order, we take over. By connecting traditional retail practices with made-to-order products, Kin Custom has developed a seamless web-to-print foundation, where we offer fast turnaround, competitive pricing, and minimal risk for peace of mind.
After you place your order from your shop, we get to work, handmaking each order in our own facility and triple-checking to ensure you get what you need, quickly. Eliminating the headache of worrying about production, shipping, and handling means you have more time to grow your business!
How To Use Kin Custom's Bulk Ordering Discount
Simply enter the amount of product you'd like to design from our Product Selection page and you'll be able to see how much of a discount you qualify for. You can also use our discount calculator on each of our products' pages to view your potential savings. As each item is added to your Creator Studio shopping cart, discounts will automatically be added.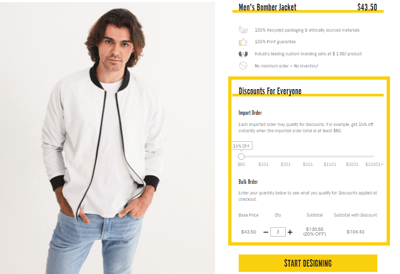 Curious about our other discounts? >>
Take Your Business To The Next Level With Kin Custom
We firmly believe starting a business should be simple, affordable and fun. Whether you're a shop owner, entrepreneur, independent artist or just getting started, we offer you great products, price, and services you can't beat.
From our seamless Creator Studio to our Help Center, we're here for you, cheering you on toward your next business goal. Create a free account and get started today!