As a small business owner, you know that reputation is everything. Being able to comfortably put your trust in a dropship company like Kin Custom is imperative to saving your business time and money.
So, how does our shipping work? Read on to get all your questions about our shipping processes answered.
What Is Kin Custom's Shipping Process?
You probably already know that all of our apparel is made-to-order. We don't have an endless supply of hoodies, shoes, or any other piece of clothing at our disposal. Rather, we begin to sew your garments the minute we confirm your order.
While this helps us to eliminate waste and create original apparel for our buyers, it can sometimes affect shipping time.
Because every product is handmade on-demand and we do not carry inventory, we average a 3 business day production and offer the following shipping methods:
Express Shipping
Our customers can select our express shipping option for any domestic or international order and expect a delivery date within 3-5 business days of placing the order.
Premium Shipping
Premium shipments can be used for both domestic and international orders with an expected delivery date within 4-7 business days of placing the order.
Standard Shipping
If you're not in a hurry for your order to arrive and you live in the United States, standard shipping is a great alternative to express or premium shipping. After your order is placed, you can expect a delivery date within 12- 15 business days.

Typically, Kin Custom uses DHL & FedEx for Express and Premium shipments to assure excellence in international shipping. Once an order has shipped, you are able to update your settings for delivery via DHL On-Demand and FedEx Delivery Manager.
---
Read up on delivery procedures by carrier here >>
---
Of course, we cannot guarantee these times will always be accurate. While we strive to hit our goal of three business days to produce your order, once a shipment has left our manufacturing center, our carriers assume responsibility of the shipment; therefore, Kin Custom can only estimate delivery times.
Why Can't I Ship to a P.O. Box?
We're often asked why Kin Custom does not allow shipments to P.O. boxes. Although we realize that post office boxes are convenient for business owners, there are two reasons why we can't allow our apparel to be shipped to a box.
First, our typical orders are typically too large to fit in a tiny P.O. box. Because of this, our carriers will ship the package back to us or disposed by the carrier.
Another reason is that as an international dropshipping company, our private shipping carriers are not able to deliver to PO Boxes. Only the United States Postal Service is allowed to deliver, which we currently do not use as a carrier.
Where Does Kin Custom Ship To?
As previously stated, our Express and Premium shipping options offer both international and domestic deliveries. Regardless of whether you live in the U.S. or not, we recommend using either option for the best shipping experience.
We ship internationally to the following countries/regions:
| | | |
| --- | --- | --- |
| Australia | Hungary | Poland |
| Austria | Ireland | Portugal |
| Belgium | Italy | Singapore |
| Canada | Japan | South Korea |
| Cyprus | Latvia | Slovakia |
| Czech Republic | Luxembourg | Slovenia |
| Denmark | Malaysia | Spain |
| Finland | Macau | Sweden |
| France | Mexico | Switzerland |
| Germany | Netherlands | Taiwan |
| Greece | New Zealand | United Kingdom |
| Hong Kong | Norway | United States |
Curious about our U.S. territory and APO shipments? Get all you need to know here.
All About Your Kin Custom Shipment
Many times, we'll get questions regarding specific shipments after an order is placed. Read on to see our buyers' most asked questions:
1. How do I change my address or shipping method?
As long as your order hasn't shipped yet, you can change your shipping address or shipping method within your Creator Studio Order tab. Not sure if your package has shipped? We'll send you a shipping email once your order has left our manufacturing center.
To change your address or shipping method, simply follow the steps below:
Login to your Creator Studio
Click 'Orders' on the left side menu
Click on the 'Orders' tab
If your order is eligible, under the 'Tracking' column, click 'Update Shipping'
Follow the prompts to change the address and submit any additional payments that may be incurred from the change of address.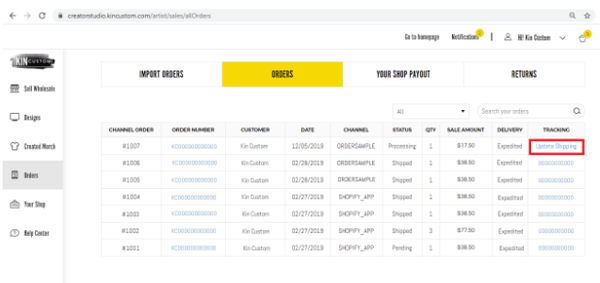 If 'Update Shipping' is not available, your order has already been processed for delivery and cannot be changed.
If 'Update Shipping' is available, you may only upgrade the shipping method from Standard to Express or Premium prior to your order being shipped.
How Address Changes Can Affect Shipping Carriers
Due to the change in address, you may or may not have additional fees that incur. When shipping with DHL, address changes are free of charge if the address change is within the original service area.
For example, if you have simply typed in an inaccurate street number, but the city and state are the same, you will not incur any additional charges from DHL.
However, if your shipping address needs to be updated to reflect a completely different area, additional fees will be owed. You'll need to pay these fees prior to changing the address; otherwise, our manufacturing center will continue processing your order with the address the order was originally submitted with.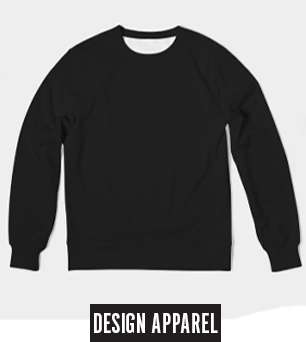 2. Where can I find tracking information for my order?
After you place your order, you'll receive an order confirmation email from Kin Custom. Once that email reaches your inbox, it could take up to 48 hours for tracking information to become available to you, or longer for some international shipments.
To view your tracking information and order details for orders initiated by you or a shop customer, start by logging in to your Creator Studio account and follow the prompts below:
Click 'Orders' tab on the left hand menu
Click Orders' on the header
If your tracking information is available, it will display under 'Tracking'

If your tracking information is not available after 48 hours of the shipped date, we urge you to submit a ticket so that we can promptly fix the issue.
3. Why is my package held at customs?
When a package is passed through customs, the clearance process is contingent upon many factors, including the destination country it's inspected by.
We recommend you refer to your destination country's Custom Border Protection guidelines for exact regulations, but here's a list of some of the CBP's general guidelines:
On average, packages may be held at customs for up to 72 hours. In rare occurrences, packages can be held up to 30-45 days.
Reasons a package may be held at customs include but are not limited to a physical inspection of the merchandise, possible trademark violations, outstanding taxes owed within that country, or inadequate paperwork.
If packages are not able to pass clearance, packages will be shipped back to Kin Custom and assessed for reshipment. On average, it can take 10 days for Kin Custom to receive the package from customs.
If packages are cleared for reshipment and denial of clearance is by no fault of the customer, Kin Custom will immediately upgrade the order's shipping to Express and re-ship free of charge.
As your print and dropship provider, we work directly with the carrier to clear the merchandise through Custom Border Protection in the designated countries and will inform you of all communication and tracking of your merchandise via email.
---
Looking for a lost package? Read on for possible locations >>
---
4. Why did my order send in multiple packages?
With our manufacturing centers located in China, different products are produced at different locations. For this reason, we may sometimes ship your order in multiple packages to ensure a quick delivery time.
In the event that this happens, you'll receive different tracking numbers within your order, which will be updated in your Creator Studio.
Kin Custom: Your Premiere Print and Dropship Provider
For over ten years, we've provided world class shipping communication. From the moment you place your order, we notify you every step of the way until your package arrives to you or your customers. If you haven't created a shop yet, what are you waiting for? Get paid to sell your designs on our clothes. Click the image below to get started.